Request an Individual Payment Tax Plan FAQs
This guidance document is advisory in nature but is binding on the Nebraska Department of Revenue (DOR) until amended. A guidance document does not include internal procedural documents that only affect the internal operations of DOR and does not impose additional requirements or penalties on regulated parties or include confidential information or rules and regulations made in accordance with the Administrative Procedure Act. If you believe that this guidance document imposes additional requirements or penalties on regulated parties, you may request a review of the document.
This guidance document may change with updated information or added examples. DOR recommends you do not print this document. Instead, sign up for the subscription service at revenue.nebraska.gov to get updates on your topics of interest.
Do I need to register to set up an online payment agreement with DOR?
Yes. Registration is required and acts as verification of the user.
What information will I need to provide to create an account?
To register, you will need the following:
DOR-issued Nebraska ID number (found on your Balance Due Notice sent by DOR);
Social Security number for individuals, Social Security number of joint responsible party;
A contact phone number;
Valid email account; and
A savings or checking account.
Where can I find my financial institution's routing number and account information to set up a payment agreement?
Refer to the image below to find this information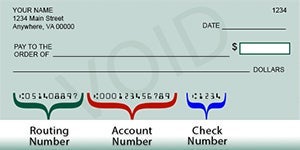 How do I know if I am eligible to set up a payment agreement?
In most situations, if you have received a balance due notice from DOR, you should be able to register/log in.
DOR allows payment agreements to be set up on unpaid balances as long as the balance is resolved within 24 months.
Are there any fees for these payment agreements?
Yes.
A convenience fee of $1.75 will be added by Nebraska Interactive, LLC to each electronic check payment.
There is a $20 non-abatable fee for any electronic check that is returned without payment by your financial institution.
What if I need to make a change to my payment agreement?
Contact DOR if you need to make any changes to the payment agreement; for example changing the bank or bank account information, making any additional payments, canceling a payment, or if DOR is applying a refund to the balance.